30 January, 2020
Riello UPS Announces Expansion Of Multi Power Range
We're enhancing our award-winning modular UPS range with revamped power modules and a compact new cabinet.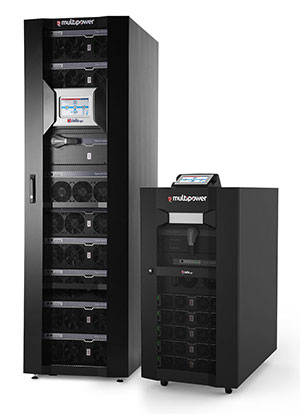 The exciting extension to Riello UPS's Multi Power family sees the introduction of two new power modules – 15 kW and 25 kW both 2U in height – to complement the existing 42 kW option.
We've also added a dedicated new cabinet for these modules that measures just 60 cm wide and 1.2 metres high to enable smaller applications with limited footprint to enjoy the same performance, flexibility and efficiency benefits that modular UPS systems provide high-end data centres with.
The new cabinet weighs 145 kg without power modules and batteries, less than half the weight of the standard MPW chassis. It can accommodate up to five of the new power modules, while four cabinets can run in parallel.
The standard MPW cabinet holds a maximum of seven 42 kW modules, and as with the more compact chassis, up to four can be paralleled together.
This vertical and horizontal scalability gives the end-user unmatched flexibility to increase capacity, redundancy or autonomy simply by adding extra modules, battery units or cabinets as and when required.
| Power Module | Single Cabinet Power Range (N+1) | Max Power Range (4 cabinets in parallel, N+1) |
| --- | --- | --- |
| 15 kW | 15-60 kW | 240 kW |
| 25 kW | 25-100 kW | 400 kW |
| 42 kW | 42-252 kW | 1008 kW |
Space-saving combination cabinets housing both power modules and battery shelves are also available to balance the desire for high power density in a reduced footprint.
While standalone battery cabinets can accommodate multiples of four battery units – up to a maximum of 36 – with a maximum of 10 cabinets connected in parallel for increased runtime.
The new and improved Multi Power range incorporates all the trademark characteristics and benefits that have made it one of our best-selling products:
Exceptional Efficiency: operational efficiency of up to 96.5% in online dual conversion mode. Capable of 95%+ efficiency even when carrying loads as low as 20-25% thanks to dedicated Energy Saving Mode. Minimises energy waste across all load levels.
Outstanding Performance: specially-designed components including the IGBT rectifier use advanced technologies that deliver performance even at high temperatures up to 40oC. Speed-controlled fans automatically adjust depending on load levels.
User-Friendly: all modules and critical components easily accessible from the front of the UPS. Hot-swappable, plug & play power modules enable downtime-free maintenance and replacement.
Advanced Communications: intuitive 7-inch LCD touchscreen display and control panel. Full range of communications slots and ports for remote UPS monitoring and networking. Each power module contains three microprocessors to enhance communications.