Press Area
New 600 kVA Version For NextEnergy (NXE) Range
02 February, 2021
Our super-efficient NXE series expands with launch of version designed for larger data centres.
With the addition of the NXE 600, the range is capable of powering parallel installations up to a massive 4.8 MVA, making it the ideal solution for the hyperscale and colocation data centres crucial in sectors such as telecoms, finance, commerce, and insurance.
The NXE 600 bolsters the already popular 250 kVA, 300, kVA, 400 kVA, and 500 kVA versions.
The entire three-phase UPS range is based on advanced technologies including IGBT controllers and three-level controls. This enables the entire NXE family to deliver unity power (kW = kVA) and TÜV-certified operational efficiency of 97% in maximum protection double-conversion online UPS mode.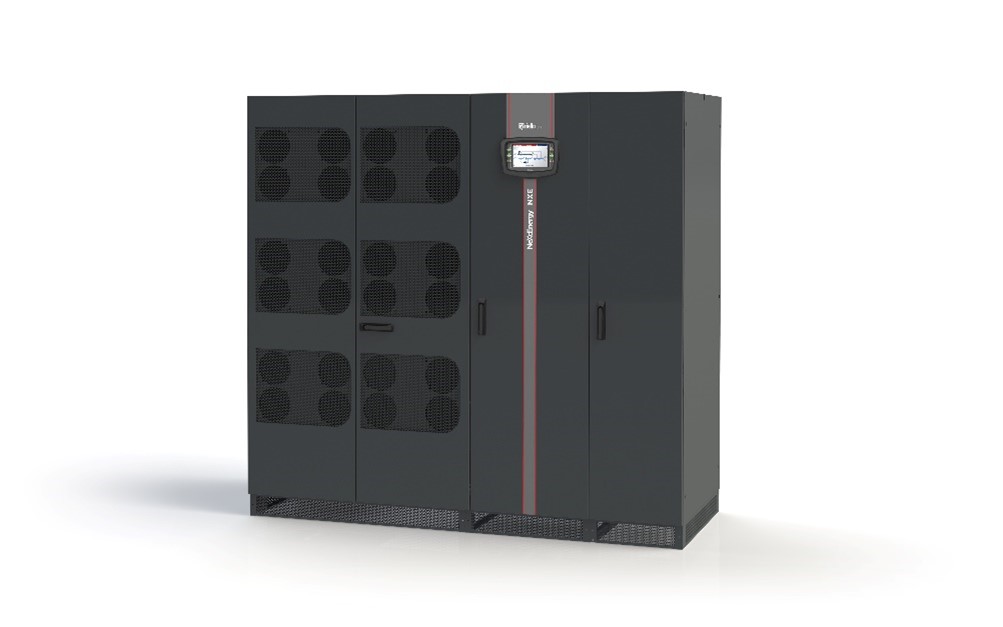 Superb Scalability
Parallel up to 8 UPSs to build power, autonomy, or redundancy, with Hot System Expansion (HSE) functionality enabling operators to add units without transferring to bypass.
Installation Flexibility
NextEnergy offers front to top ventilation and full front panel access for maintenance and servicing. This opens up a plethora of installation configurations i.e. side-by-side, back-to-back, against the wall. Also works with or without a neutral connection, potentially reducing installation costs of the electrical distribution system.
Energy Saving Options
As well as guaranteeing up to 97% efficiency in online mode, the NXE offers a choice of operating modes for additional savings. ECO mode ups efficiency to 99%, while ACTIVE ECO achieves 98.5% efficiency and filters out harmonics without the need for any power factor correction.
Lithium-Ion Compatible
The NXE 600 is compatible with the li-ion batteries that are becoming increasingly popular as an energy storage solution.
Peak Shaving Functionality
The NXE range includes three types of peak shaving: static (pre-programmed at commissioning stage); remote controlled (by the user/operator); and dynamic (adjusts in real-time according to site conditions).
Advanced Communications And Controls
Full integration with all Data Centre Infrastructure Management (DCIM) and monitoring software, with a broad range of ports and slots for communication cards. Sizeable 7-inch colour LCD touchscreen display.
Learn more about NexEnergy 600 kVA and the rest of the NXE range